every week the Barons Court gardening club meet for an hour. it is a new club run by myself and 11 children. our current task is revamping the tired looking vegetable plot, fondly named 'Payne's patch' by teacher Mrs Payne before she retired.
we have four raised beds currently inhabited by various fruit and vegetable plants and the challenge for us at the moment is deciding what we want to grow...not too much in february!
outdoor space is limited at our school, we do have an eco greenhouse built with plastic bottles, but it is not very water tight! a few weeks ago we potted some sweet pea seeds and they are growing well, but before we can plant them out we need to top up the soil and remove any crops left over from last year. a lot of work to do in very little time. lucky I have such a dedicated team of workers.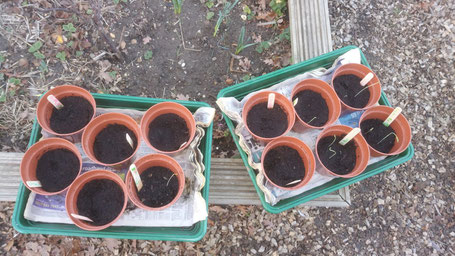 our collection of sweet peas growing after one week!
---